The school has various multiple systems and their users required access to these systems to obtain relevant information. These information ranged from accessing academic reports to updating personal information or changing their network passwords and others. For users, this was becoming onerous as they needed to remember how to access which system and for what reasons as well as remember different username and passwords to access each of these systems.
Yarra Valley Grammar also wanted to provide certain user specific information like parents to view student assessments progress reports which was currently not possible for various reasons (existing portal not able to provide this or the system unable to restrict user with limited access or system unable to provide access to certain users).
Over the last few years the school had made significant system changes and this trend was supposed to continue in the future. They needed a school portal which was flexible and scalable that can integrate with most of their existing systems including legacy systems and catered the above requirements.
Challenges
Schools have multiple systems including student information system, learning management system, analytics, reporting, financials, timetable and others. Every school is structured differently and uses a combination of their choices of systems.
Our challenge when developing ePortalis was to ensure we keep it as flexible and scalable as possible. We did not wanted to limit integration to any major providers and wanted to ensure that the schools enjoy using ePortalis for years to come. If they changed or replaced any of their existing system, ePortalis should be able to cater for these changes.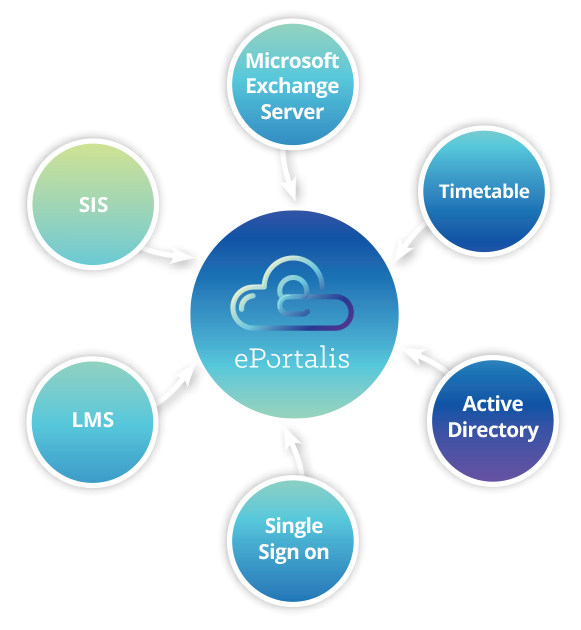 Solution
ePortalis can be tailored to integrate with most of your school system including any legacy school systems. Some of the most commonly used school systems that ePortalis integrates with are listed below.
Student Information Systems – Synergetic, MAZE, SAS, TASS
Learning Management System – CANVAS, SEQTA
Timetable – Synergetic, Timetabler
Google Suite including Google Calendar
Microsoft Exchange Calendar
Analytics – Google Analytics, Accelerus
Student Academic Reports
Medical and Health Reports
Additionally, ePortalis supports Single Sign-On and when enabled users do not need to remember and enter password for accessing these systems.
Results
Time saving by over 80% through reduction in users support calls such as network password reset and others.
Complimented as a greater efficient system as relevant user specific information can now be obtained from a single source. Users have access to their timetable, teachers, academic results, reports, financials, calendars, and other vital information. Thus providing a truly personalised user experience.
Single Sign-On with quick links to these system improved customer satisfaction by over 60% as users do not need to search for logins to the these systems and school saved on support times.
Cost savings to schools by helping them avoids unwanted system replacements by providing integration and single sign-on.
Make better users and business decisions by providing richer insights. Improved better connectivity between systems.
Increased productivity by 40% by eliminating manual processing.